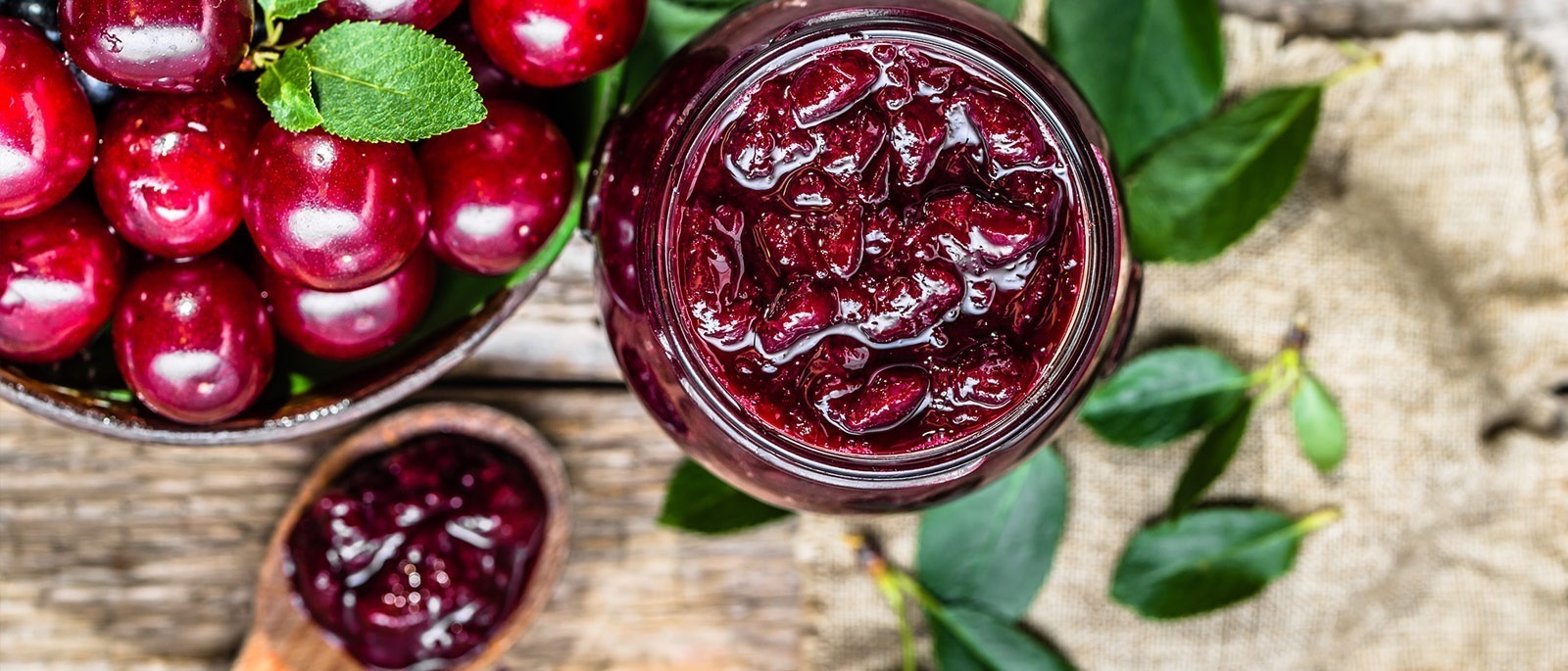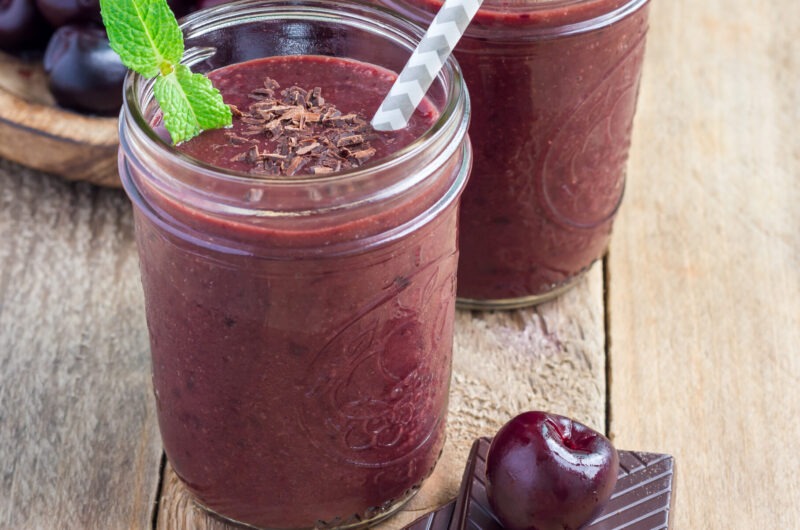 Ingredients
2

cups

Northwest Cherries - Fresh or Frozen

1

cup

unsweetened Almond Milk

or any milk of your choice

2

tbsp

raw cacao powder

cocoa powder is ok too

1

tbsp

chia seeds

1

scoop

protein powder (plain, vanilla, or chocolate) or greek yogurt (plain or vanilla)

Ice if not using frozen cherries
Instructions
Blend together in blender until smooth.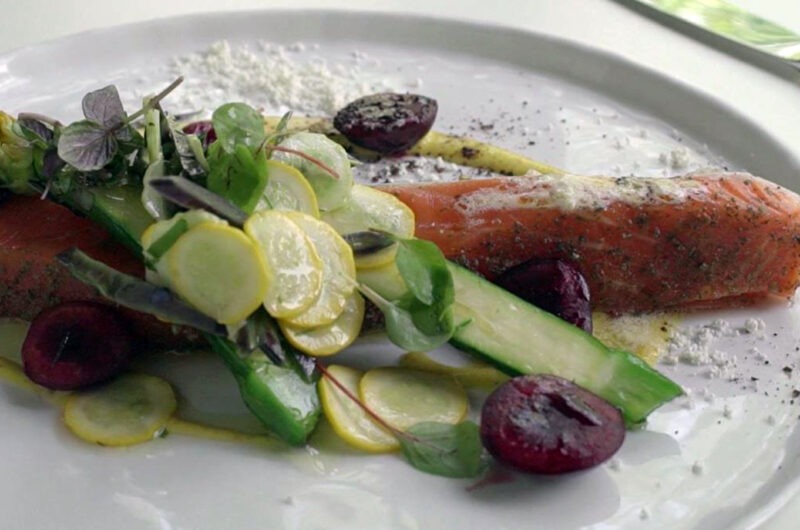 Ingredients
1

Walla walla sweet onion, sliced

1

tbsp

olive oil

plus oil for grilling

1

tbsp

minced ginger root

1

tsp

garlic, chopped

1/2

lb

Bing Cherries, pitted and halved

1/4

cup

red wine

2

tbsp

red wine vinegar

1

tbsp

sugar

2

tsp

tarragon leaves, plus sprigs for garnish

salt and pepper to taste

1 1/2

lbs

wild salmon filet, cut in 4 portions
Instructions
To make the chutney, in a hot saucepan, caramelizeonions in oil, then add ginger and garlicand cook until lightly golden. Add cherries and cook gently. Deglaze pan with red wine and reduce until cherriesare tender. Finish with vinegar,sugar, tarragon, salt, and pepper.

To grill the salmon, preheat abackyard barbecue and rub the grilling surface with oliveoil. Season the salmonfillets lightly with salt and pepper. Grillskin-side-up for five minutes,or until dark lines form onthe flesh, then turn the salmon and grill until the fish is just cookedthrough, about 4 minutes more. Serve the salmon with the chutney and garnish with tarragon sprigs.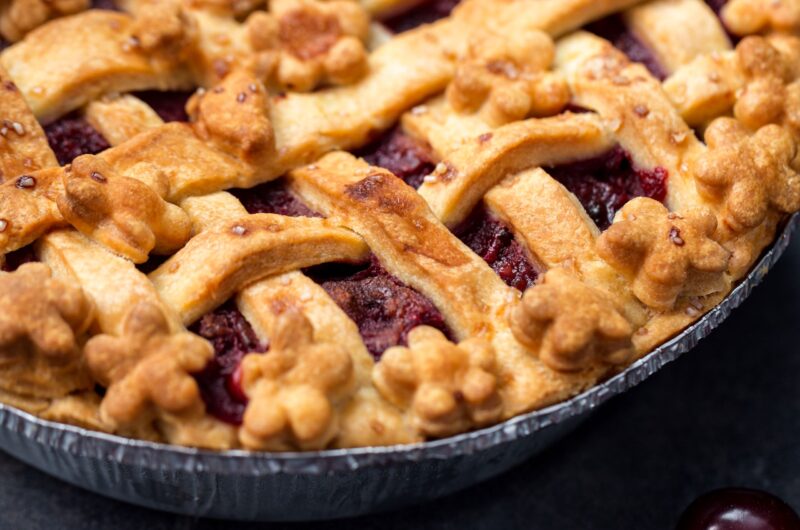 Ingredients
2

Pie crusts, prepared

2

tbsp

Cornstarch

2

tbsp

cherry juice, reserved from pitting (fresh) or from rinsing/rehydrating (preserved)

7

cups

Northwest Cherries

pitted

3/4-1

cup

sugar*

1

tbsp

almond extract or bourbon-vanilla bean infusion
Instructions
sing a fork, whisk together the cherry water and cornstarch in a small bowl, then set aside.

2.       Stem and pit the cherries, if not already done. 

3.       Fill pie dish with cherries and blend the remaining volume (about 2 cups or 1/4 the total volume) into a puree. Pour the remaining whole cherries into a mixing bowl and return to the refrigerator (if using frozen cherries). 

4.       Using a heavy-bottomed pan, gently heat the puree and sugar over low heat until the volume has reduced by 1/3 to 1/2. Constantly stir across the bottom to prevent burning. 

5.       Once reduced, remove from the heat and stir in the cornstarch slurry until the mix regains translucency.  Gently and briefly reheat if needed. Stir in the extract and let the mixture cool to room temperature.

6.       Pour the cooled mixture over the whole cherries, gently stirring to incorporate. Pour the final cherry mixture into a 9 or 10-inch prepared pie crust, and top with a second crust. Pinch, crimp and vent the top crust. Brush with a beaten egg if so desired and sprinkle lightly with coconut sugar.

Bake at 375 degrees for 55-60 minutes, or until the crust is golden brown and the filling is steadily bubbling. Aluminum foil may be used around the crust edges to prevent browning during the second half of the bake. Transfer the pie to a cooling rack, and most importantly, allow the pie to cool completely before serving (3-4 hours).

*sugar may be substituted for 3/4 - 1 cup coconut sugar (Grandma later changed this to lower-glycemic coconut sugar)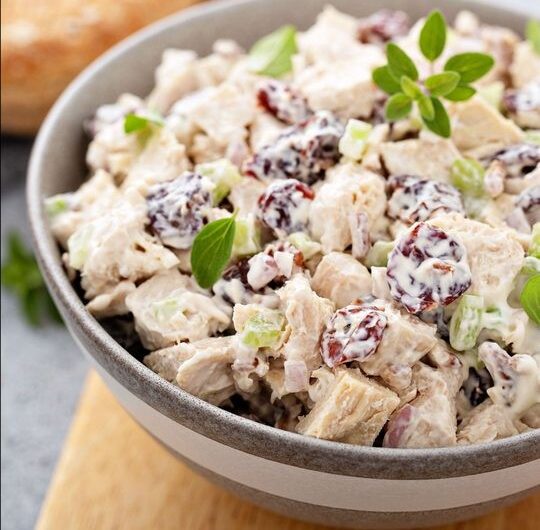 Ingredients
3

Boneless, chicken breast halves, cooked and diced

1/3

cup

Northwest cherries

Dried or Fresh

1/3

cup

Diced celery

1/3

cup

Toasted, chopped pecans

1/3

cup

Mayonnaise

1

tbsp

Buttermilk

salt and pepper to taste
Instructions
In a large bowl, combine the chicken, dried cherries, celery, nuts, mayonnaise, milk, salt and pepper. Mix together well and refrigerate until chilled. Serve on cracked wheat bread, croissants or a bed of lettuce.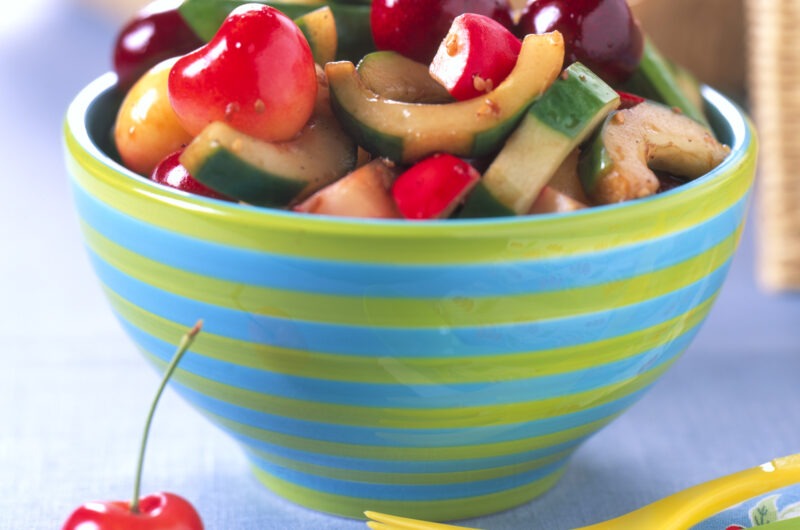 Ingredients
1

cup

Sugar snap peas

2

cups

Northwest Cherries

pitted

1

Cucumber

Medium, halved and seeded

1

cup

Red Radishes

chopped

3

tbsp

White wine vinegar

2

tbsp

Balsalmic vinegar

1/2

tsp

sesame oil

3/4

tsp

salt

1/2

tsp

toasted sesame seeds

1/2

tsp

fresh ginger root

grated

1/8

tsp

ground pepper
Instructions
Blanch peas in boiling salted water 1 minute; plunge into iced water to cool. Drain. Mix cherries, cucumber, radishes, and peas. Combine remaining ingredients and mix well. Pour over cherry mixture and toss to coat. Marinate in the refrigerator at least one hour.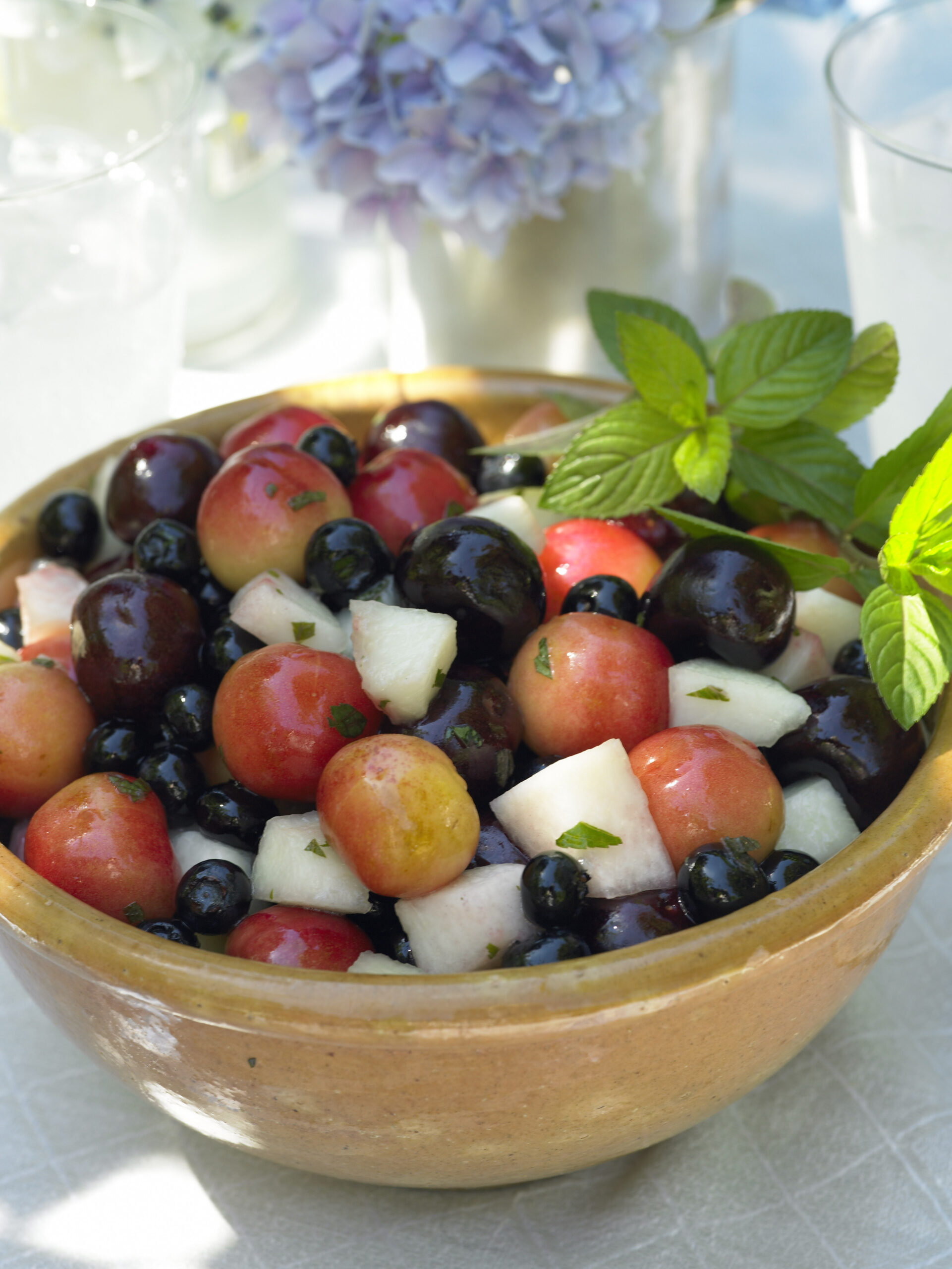 Ingredients
1

cup

Dark Sweet Northwest Cherries

pitted

1

cup

Rainier Northwest Cherries

pitted

1

Large

Northwest White Peach

pitted and cubed

1

cup

fresh blueberries
Minted Honey Lemon Dressing
2

tbsp

Fresh Lemon Juice

1

tbsp

Honey

1

tbsp

Olive Oil

2

tsp

Chopped fresh mint

1/4

tsp

salt
Instructions
Tosstogether cherries, peach and blueberries. Sprinkle with dressing and toss gently. Makes 4 servings.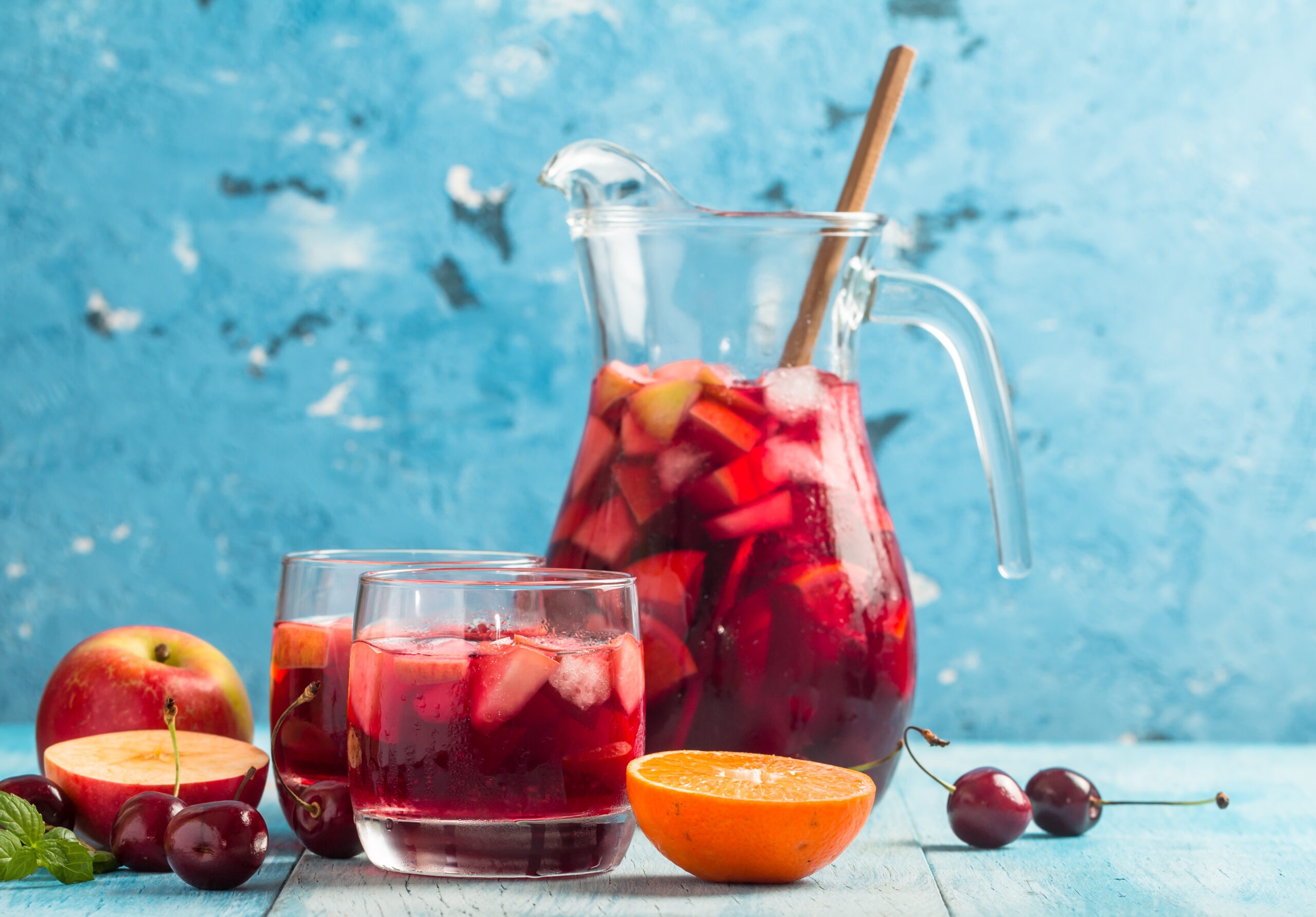 Ingredients
2

cup

Northwest Cherries, pitted

2

cups

chilled orange juice

2

cups

chilled lemon-lime flavored soda

1

can

(8oz) pineapple chunks in juice

chilled and drained

1

orange peeled and sectioned
Instructions
Place cherries in single layer on baking sheet, freeze until firm.

Blend orange juice, soda, pineapple with juice, and orange sections in a pitcher. Pour into glasses to within 2 inches of top.

Divide frozen cherries between glasses. Serve with spoons.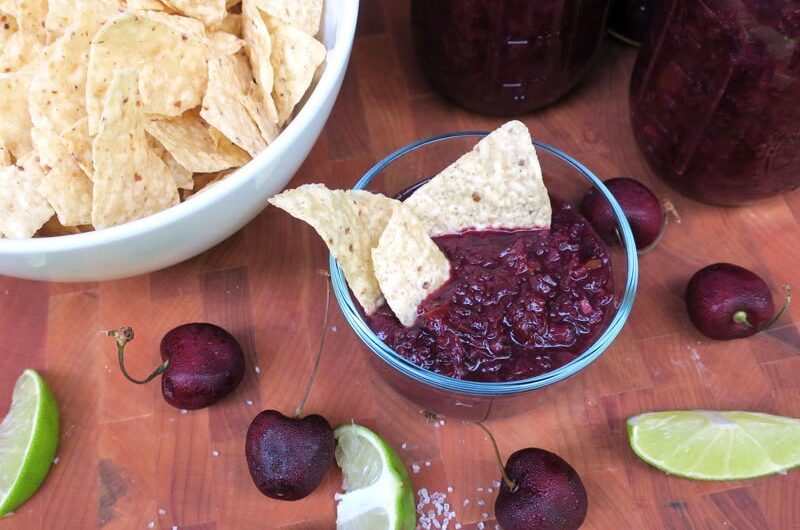 Ingredients
4

lbs

Northwest Cherries, pitted and chopped

1 1/2

cups

red onion (chopped)

1 1/2

cups

white vinegar

1

cup

bell pepper

3/4

cup

sugar

3

jalapeno peppers (minced)

3

garlic cloves (minced)

1

tsp

ground cumin

1/4

tsp

cayenne pepper
Instructions
1. Combine all ingredients in a large sized, non-ionized pot. Bring to just a boil, then reduce heatand simmer for 10 minutes or until salsa no longer looks watery.

2. Ladle salsa into hot prepared pint jars. Wipe rims, apply lids and rings (finger tight) and processin a hot water bath for 15 minutes.

3. Remove canning pot from heat, remove lid, and let jars rest in the cananing pot for an additional5 minutes. Remove jars, let sit on counter for at least 12hrs.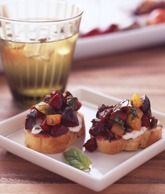 Ingredients
18

slices

(1/2-inchthick) small baguette-style bread

1

tbsp

olive oil, divided

1 1/2

cups

pitted Northwest fresh sweet cherries, coarsely chopped

1/4

cup

chopped cilantro

1/4

cup

diced yellow sweet pepper

2

tbsp

finely chopped green onions

2

tbsp

lime juice

1

tsp

grated lime peel

1/2

tsp

garlic salt

1/4

tsp

ground black pepper

2

oz

fresh mozzarella cheese

1

tbsp

thinly sliced fresh basil
Instructions
Toastone side of baguette slices at 350°F 5 minutes.

Turnslices, brush with olive oil and bake 5 minutes longer.

Combinecherries, cilantro, pepper, green onions, lime juice, lime peel, salt, pepperand remaining olive oil; mix well.

Topeach slice of baguette with a thin slice of fresh mozzarella cheese, a heapingtablespoon of cherry mixture and sliced basil.