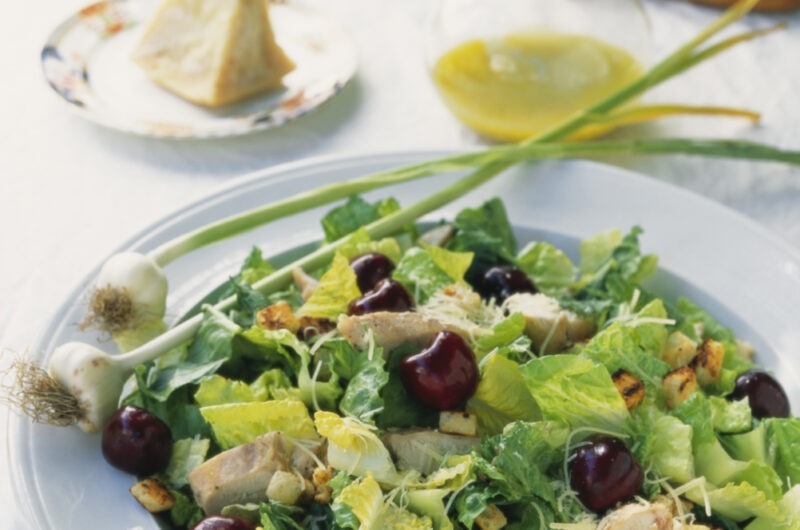 Ingredients
2

qts

Romaine Lettuce

2

cups

Northwest Cherries

pitted

2

cups

sliced, cooked chicken breast

Easy Parmesan Croutons

2

tbsp

Shredded Parmesan cheese
Lime Dressing
3

tbsp

Lime juice

1

clove

garlic

crushed

3/4

tsp

salt

1/2

tsp

grated, lime peel

1/4

tsp

Freshly ground black pepper

1/3

cup

Olive oil

beaten in
Instructions
Toss lettuce, cherries, chicken and croutons in a large salad bowl.  Just before serving, pour Lime Dressing over salad, sprinkle with Parmesan cheese and toss lightly.

Easy Parmesan Croutons:  Cut 3 slices day-old bread into ½-inch cubes.  Toss with 1 tablespoon olive oil and 1 tablespoon grated Parmesan cheese.  Heat in a nonstick skillet over medium heat 3 to 4 or until golden brown; stir frequently.  Makes 1-1/2 cups.Lime Dressing:  Combine 3 tablespoons fresh lime juice, 1 small clove crushed garlic, ¾ teaspoon salt, ½ teaspoon grated lime peel and ¼ teaspoon freshly ground coarse black pepper.  Beat in 1/3 cup olive oil until blended.  Remove garlic clove before pouring over salad.  Makes about ½ cup.**Time-Crunch Variation:  Purchase cut romaine lettuce, prepared croutons and cooked chicken from the salad bar or deli at your grocers.  Dress the salad with bottled Caesar dressing.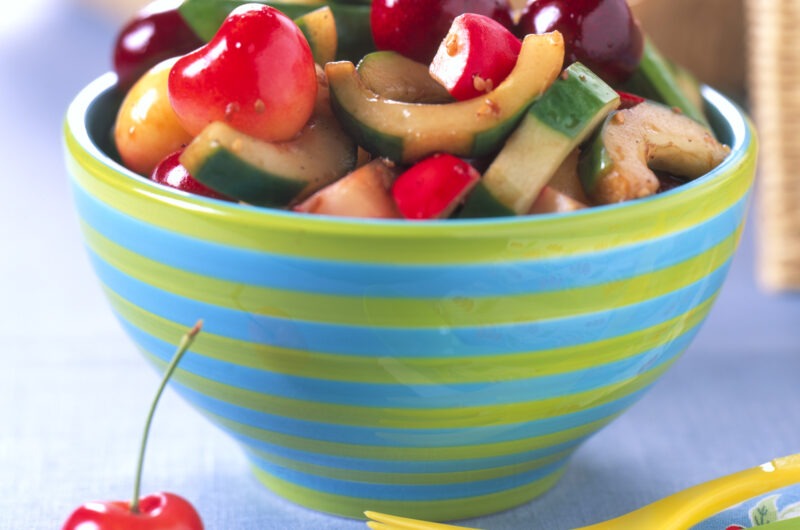 Ingredients
1

cup

Sugar snap peas

2

cups

Northwest Cherries

pitted

1

Cucumber

Medium, halved and seeded

1

cup

Red Radishes

chopped

3

tbsp

White wine vinegar

2

tbsp

Balsalmic vinegar

1/2

tsp

sesame oil

3/4

tsp

salt

1/2

tsp

toasted sesame seeds

1/2

tsp

fresh ginger root

grated

1/8

tsp

ground pepper
Instructions
Blanch peas in boiling salted water 1 minute; plunge into iced water to cool. Drain. Mix cherries, cucumber, radishes, and peas. Combine remaining ingredients and mix well. Pour over cherry mixture and toss to coat. Marinate in the refrigerator at least one hour.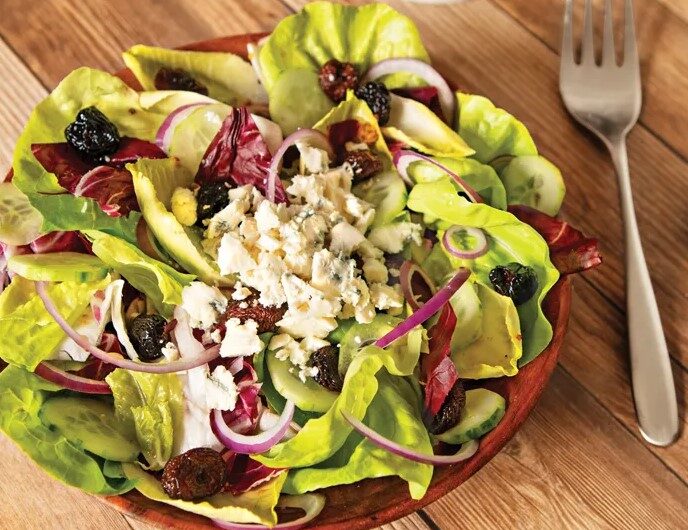 Ingredients
2

bunches

butter lettuce, trim, wash, pat dry

2

cups

radicchio, chopped

1

endive leaves separated

1/2

cucumber, skinned and thinly sliced

1/2

cup

red onion

1/4

cup

merlot or red blend wine

3

oz

Northwest Cherries Dried or Fresh

1/4

cup

extra virgin olive oil

2

tbsp

red wine vinegar

1 1/2

tbsp

fresh lemon juice

2

tsp

Dijon mustard

2

tsp

mild honey or sugar

1/4

tsp

fresh ground pepper

3/4

crumbles gorgonzola or Rogue blue cheese, Stilton blue cheese
Instructions
1. In a medium bowl, combine the dried cherries and wine. Set aside.

2. Prep the vegetables: wash, dry, prep the lettuce, radicchio,endive, cucumber, red onion.

3. In a bowl, whip ingredients together for a savory dressing:vinegar, fresh lemon juice, Dijon mustard, mild honey orsugar, pepper. Set aside.

4. Drain dried cherries, place on paper towel, and set aside.

5. In a large bowl, combine all vegetables, add the driedcherries. Add olive oil, toss to coat. Add savory dressing,lightly toss. Add Kosher salt to taste.

6. Spoon onto platter or salad bowls. Sprinkle with cheese crumbles.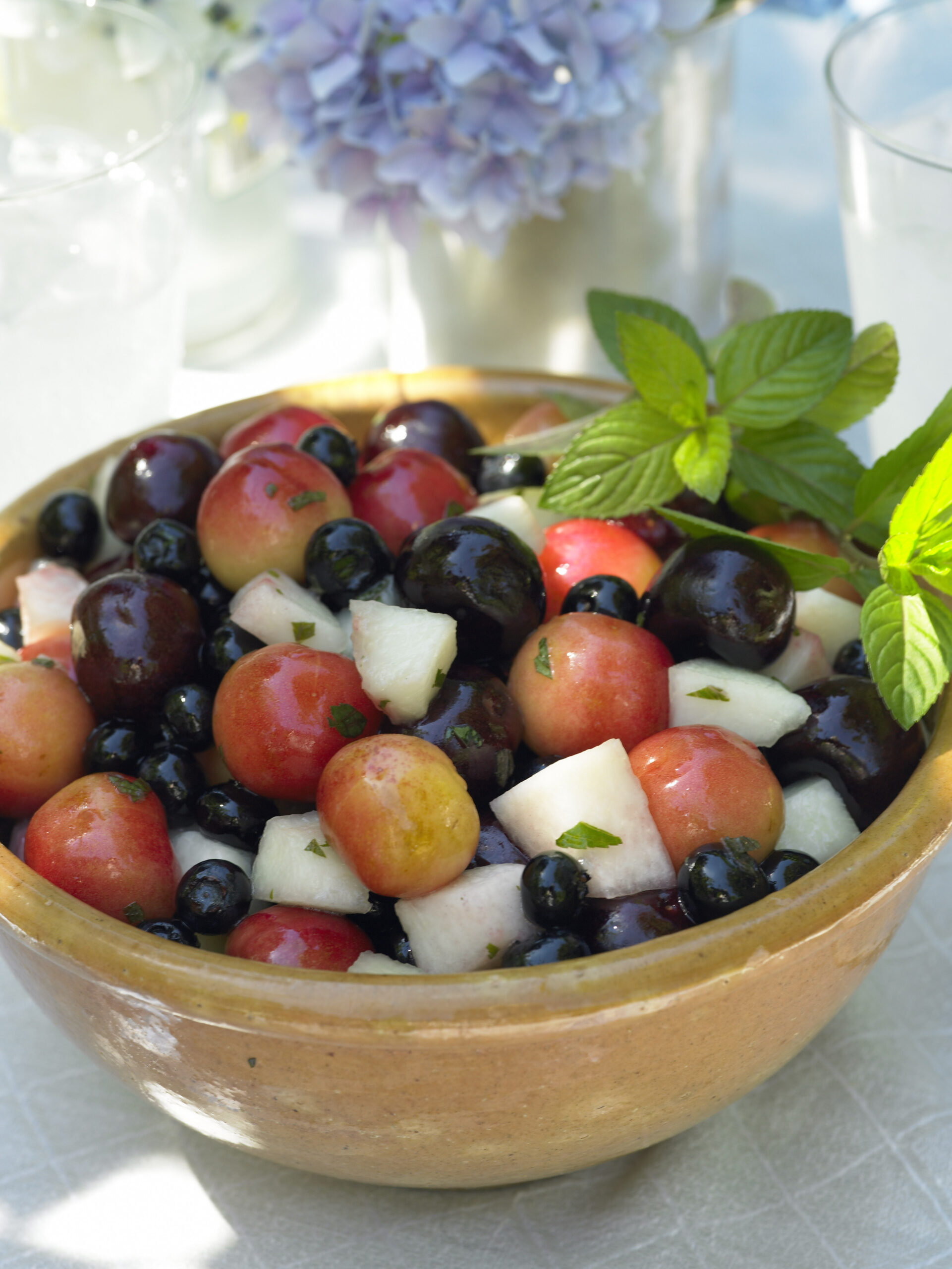 Ingredients
1

cup

Dark Sweet Northwest Cherries

pitted

1

cup

Rainier Northwest Cherries

pitted

1

Large

Northwest White Peach

pitted and cubed

1

cup

fresh blueberries
Minted Honey Lemon Dressing
2

tbsp

Fresh Lemon Juice

1

tbsp

Honey

1

tbsp

Olive Oil

2

tsp

Chopped fresh mint

1/4

tsp

salt
Instructions
Tosstogether cherries, peach and blueberries. Sprinkle with dressing and toss gently. Makes 4 servings.