The 2022 season outlook was very positive in early spring.  Opportunities in the foreign markets, except the Chinese market, were much rosier than the 2021 season.  Countries have relaxed their Covid19 pandemic restrictions and have adopted the "living with the virus" policies.  The SE Asia region inclusive of Thailand, Singapore, Malaysia, Philippines, and Vietnam, were the first to open their respective borders to travelers.  Shortly thereafter, S. Korea followed suit.  In-country movement limitations in Japan, Taiwan, and Australia were greatly reduced.  The long-awaited cherry "systems approach" protocol agreement with India was scheduled to be signed in late April 2022.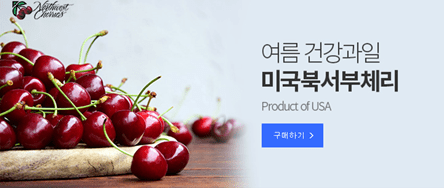 In mid-April, growing regions in Washington State were hit by a record amount of spring snow.  The unprecedented snow event killed the cherry flowers that were in bloom, and hibernated flower buds from blooming.  The cold condition lasted for days, resulting in the 2022 NWC crop being dramatically reduced in volume compared to prior seasons and compounded that with a later than normal harvest launch. 
Our first cherries were picked on the 8th of June, about 2 weeks behind 2021's schedule.  The CA cherry industry had a dismal season with their cherry harvest concluding by the end of May; thus, the timing situation between the two growing regions left a considerable number of days with no cherries available for the foreign markets. Importers and retailers turned to sourcing cherries from Turkey, Uzbekistan, Spain, etc. to bridge the lost sales.  The shortage of early season NW cherries also created havoc for foreign buyers trying to secure exportable shipments.  Foreign buyers had to compete with the U.S. domestic market for a limited number of fruits.  It was after the first week of July when the foreign markets were finally able to receive any kind of supply consistency.   
From the start of the NWC season, the overseas business was faced with numerous challenges such as lack of cherries available, high FOB plant prices, high shipping costs, record high U.S. dollar value and inflation. Demand for NW cherries from the APAC region was weakened as retailers struggled to move $15/lb. mediocre quality cherries.  Compounding the situation, consumers were already tightening their wallets. The July and August growing district heatwaves further reduced the quality of fruits for export markets.  The combination of the above elements resulted in the overseas businesses lack of ability to regain the sales momentum needed to fulfill their category quotas. 
The 2022 harvest volume was about 35 percent less than in 2021 with a total volume of 132,773 tons. Export volume declined by almost 49 percent from 59,365 tons in 2021 to 30,490 tons.  The export to domestic sales ratio fell well below the 30:70 benchmark to 23:77, respectively.  Volume to China dropped 57 percent to 524,923 20lb boxes and South Korea fell 68 percent to a level that we have not seen since 2010 at 272,023 boxes. Japan tumbled 73 percent to 70,613 boxes and Australia plunged 69 percent to all time low with 42,092 boxes.  Although Taiwan's volume decreased by 29 percent to 427,454 boxes, its volume still surpassed that of South Korea.  The last time Taiwan exceeded South Korea was back in 2012.    Vietnam's volume declined 28 percent to 111,823 boxes, and the rest of the SE Asia region fell 37 percent to 97,744 boxes. NW volume to Canada shrank 37 percent to 1,317,216 boxes.  The story of decline continues with the UK at an all-time low of 4,121 boxes and Mexico experienced a setback with its volume lowered by 66 percent.
In 2022, South Korea, Taiwan, China, Vietnam, and Mexico were the center of focus.  The NWCG continued with small steps into India.  Although India's consumption expectation does not match that of China's, there is a large pool of upper income families for NWCG to successfully target. 
The Covid-19 pandemic has altered consumers' eating and shopping behaviors.   At the NWCG, we have identified the changes to understand the significance of ecommerce channels in the pandemic.  Thus, the NWCG allocated additional promotion budgets to emphasize our health messages and collaborate with e-retailers and online to offline (O2O) sales channels to push NW cherry sales.  NWCG have invested in various digital marketing campaigns, public relation (PR) events, and TV health talk shows to accompany the offline promotions and to broaden NW cherry health messages.  Our integrated marketing strategy has resulted in positive NW cherry brand images and sales in all sales channels.
Top priorities for the South Korea market are to solidify NWC's premium image, to fend off cherries from Turkey and Uzbekistan in June and maintain market share over newly permitted Canadian cherries in later season.  NWCG has broadened our health messages and positioned ourselves as the fruit to consume in the pandemic.  We partnered with a top advertising agency to maximize the NWC health benefits exposures. 
To make sure we covered all sales channels, the NWCG aligned with the top three ecommerce companies SSG.com, Market Kurley, and Coupang.com to increase online presence and advertisements. Total impressions from 2 weeks of ad placement on the three ecommerce websites is around 68 million.  
NWCG collaborated with key supermarket chains and department stores to conduct in-store sampling in July and August. We implemented a month-long consumer contest via Facebook and Instagram platforms.  To further integrate our program, NWC videos were produced by a popular YouTuber in July to build excitement and increase awareness of the benefits of eating NW cherries. The annual "Cherry Day" PR event was launched on July 2nd and over 50 media from all platforms were at the PR event to kick off the 2022 NWC season.  The result of the kick-off event included coverage of our "Cherry Day" and health benefits articles were released through online programing channels, magazines, and social media platforms.  The final tally included more than 1 million TV program viewership, over 4 million views of our health message related articles through all online news platforms, and over half a million readers from the lifestyle magazine channel.  The NWC health messages is estimated to have reached more than 5.5 million potential NW cherry shoppers. 
To make sure we covered all sales channels, the NWCG aligned with the top three ecommerce companies SSG.com, Market Kurley, and Coupang.com to increase online presence and advertisements. Total impressions from 2 weeks of ad placement on the three ecommerce websites is around 68 million.  
The Zero Covid19 policy the Chinese government has adopted is an added challenge on top of the 55% import tariff. Waves of Covid19 outbreaks throughout major cities severely reduced NWC shipments to China.  Not knowing what will happen tomorrow, many packinghouses decided not to take on too much risk by limiting shipments to China.  Under the Chinese government's execution of prevention measures, our cherries experienced limited transiting not only in Guangdong Province but also in Shanghai and Southwestern China.  These regions heavily rely on transshipments from Guangzhou, while shipments from Shanghai increased to help the affected areas.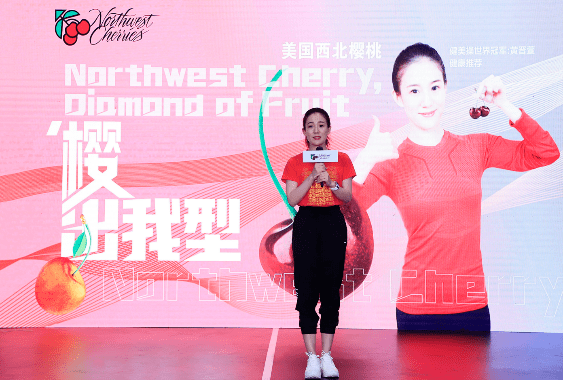 To increase awareness, strengthen the knowledge of health benefits, and reinforce our competitiveness, we collaborated with an aerobic world champion, Ms. Huang.   In the month of July, PR campaigns were conducted in 4 key cities to promote healthy living, healthy eating, and healthy lifestyles.  Ms. Huang participated in the production of NWC promotional videos, hosted 4 NWC press conferences in Guangzhou, Changsha, Chengdu, and Hangzhou.  NWC PR events interacted with guests and promoted the idea of "Delicious and Nutritious, Healthy Cherry and Healthy Life" ideology to the media.  From June 24 to August 3, this Northwest cherry media campaign involved 405 online print media, 10 online video media, 10 fashion and sports KOLs (key opinion leaders), 20 influencers, and 40 social media to promote Northwest cherry sales with a sports theme while conveying the concept of proactivity, confidence, and health to Chinese consumers. The related coverage received 172,050,055 hits and generated $30,800,000 in advertising value.
Growth opportunities for NWC in China lie in the expansion of the second and third-tier cities; however, current trade conflicts between the US and China are hampering our development.  And….the Zero-Covid19 policy is not helping the business development.
Turkish cherries are the main competitor in Hong Kong.  In June and early July, the Park'n Shop supermarket chain replaced our cherries with lower priced Turkish cherries.  Park'n Shop would only import and sell our cherries at the end of Turkish cherry season.  NWCG has been promoting NW cherries in Hong Kong for almost 30 years.  The NWC brand is recognized by the trade as premium quality, and it can be trusted.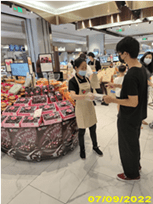 For two straight seasons, Mexico has shown its niche to take on volume shipment when the condition is favorable.  Even with the higher-than-normal FOB plant price, consumers demonstrated demand for NW cherries and the trade was eager to push for more sales.  The largest NWC displays were all in Mexico. 
The NWCG targeted Tijuana, Hermosillo, Monterrey, Guadalajara, Queretaro, Mexico City and Cancun. Key retailer partners such as Walmart, HEB, Chedraui, Soriana, and Costco continued their aggressive promotion campaigns from the 2021 record volume season. Weekly merchandising activities took place throughout July and August. The marketing mix included in-store sampling events, online ads on retailers' webpages, POS material supports, outdoor billboards, advertisements on Spotify streaming service, and various social media platforms.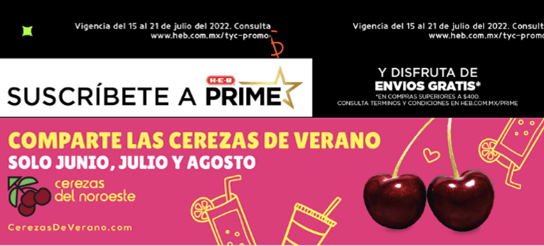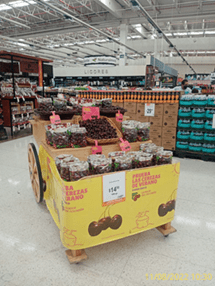 To further integrate our program, NWCG conducted a NWC season kickoff PR event in Mexico City.  The objective of this event was targeting the affluent shoppers and create an experience of connecting NWC healthy living with our mind and body coupled, with the concept of the start of the Northwest cherry season in Mexico. Prominent medical field experts, key opinion leaders (KOL), influencers and both on and offline media were invited to the kickoff event. The event successfully demonstrated how to live a healthy lifestyle while familiarizing the benefits that NWC contribute to health.  As a result of these activities, the NWCG estimated the NWC health message and awareness reached about 88 million impressions.
Although Taiwan is not a growth market for the NW cherry industry, it is a market with the purchase consistency that the NW cherry industry can depend upon each year.  Our strategy for this market is to sustain our superior brand image and expand cherry health benefit awareness, while continuing to pursue new partnerships from regional retail chains and maintain collaborations with existing retailers.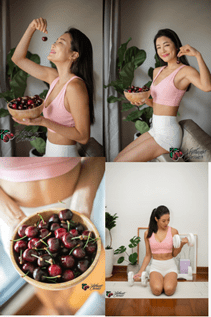 To reach our target audience and continue emphasis on the health benefits of eating NW cherries, the NWCG commissioned a special NWC painting from an illustration artist in Taipei.  The image was well received by consumers, and the image was used on all marketing materials, giveaways, PR activities, and in TV programs. From mid-June to mid-August, the NWC advertisements ran on numerous multimedia channels.  NWC images wrapped a hundred yellow taxis running 16 hours a day in Taipei, on digital billboards inside popular subway stations throughout the island, on several social medial platforms, in lifestyle magazines, and on retailers' websites.  A 5 second looped NWC commercial played on digital billboards inside of the popular class "A" office buildings and department stores.  NWC TV commercials ran during 20 different popular healthy talk programs with a total of 1,300 spots.  From the social media coverage alone, more than 13 million impressions were estimated.  Monthly foot traffic at the subway stations, department stores, and office buildings is estimated at 4.5 million people.  TV commercials had an estimate of 4.2 million impressions.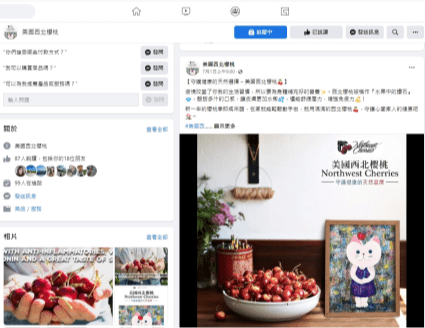 SE ASIA REGION AND AUSTRALIA
Countries in the SE Asia region were the first ones to open its border to foreign travelers.  By early summer, countries like Vietnam, Thailand, Singapore, Malaysia, the Philippines, and Australia all adopted the "living with the virus" policy.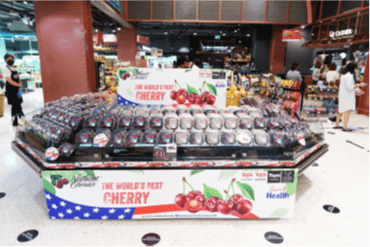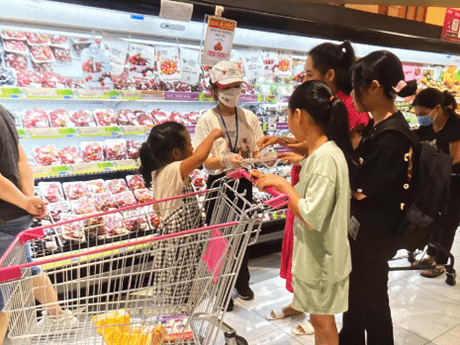 NWCG's marketing campaigns were in full force. Product samplings were conducted with all key supermarket chains. We intensively pushed our NWC health messages as we worked with KOL (key opinion leaders)/influencers across various social media platforms.  Our in-country teams collaborated with key supermarket partners to increase product awareness and health benefits on their social media platforms and internet sites. We joined forces with major importers and wholesalers to run SMS campaigns to highlight NWC availability on their Facebook and Instagram pages and web sites.  The final estimates of NWC health message impressions from all marketing communication channels is over 10 million respectfully. 
Due to seasonal influences, NWCG conducted our program later than previous years. Despite the small crop and the increase in retail price, NWCG found that our cherries still occupied large sections of shelf space with visible NWC signage. Consumers appreciate the quality of our cherries and trust our product. According to numerous retailers, NW cherries have always led the summer sales of imported fruit.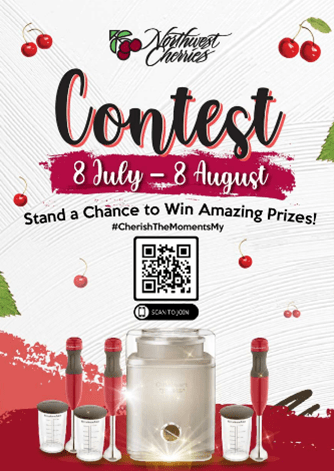 After carefully studying the Indian market for several years, the NWCG decided to make direct investments during the 2021 season.  Affluence in India is growing and consumers are becoming more aware of nutrition and healthy eating habits especially during the Covid19 pandemic. Modern retailers, including online sales, are growing rapidly creating new supply chains. Products like imported cherries previously suffered because of lack of infrastructure. India has a population of 1.35 billion with a defined middle-class and high-income population of approximately 250 million. Out of this, approximately 10 to 20 million consumers can afford a high value fruit like NW cherries.  
The 2022 Northwest Cherry season in India was a non-starter as lack of fruit availability in the Northwest and the delayed signing of a "systems approach" protocol agreement resulted in very few boxes shipped to India. Very limited promotions for Northwest Cherries were conducted in India due to the lack of consistent fruit availability. Promotions were reduced to 4 retailers and wholesale merchandising. No consumer communication or PR activities were conducted. The planned promotion campaign in 2022 was curtailed significantly as it was felt that it will be best to use the resources in the 2023 season when Northwest cherries can be imported under the "systems approach" protocol.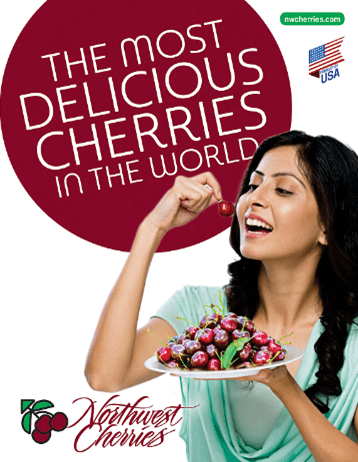 There is a win for the NWC industry in India, an agreement was signed in late August 2022 for shipping Northwest cherries to India without fumigation under a systems approach. This issue had been in bilateral negotiations for years and was finally resolved after the Plant Quarantine Division of the Ministry of Agriculture and Farmers Welfare, Government of India, published the Plant Quarantine (Regulation of Import into India) (Third Amendment) Order, 2022.
Demand for NW cherries will continue to grow in India. Many consumers who tasted our product this season confirmed that NW cherries are the best they have eaten.  Importers and retailers, who were a part of the NWC launch campaign, experienced good demand for our cherries. 
The younger population in India is increasing.  This new generation of consumers are open to explore and try new products.  They are health conscious and trust brands they recognize.  Rising affluence will be the biggest driver of increasing consumption.  Of India's five household income levels, the top two income classes (elite and affluent) are the fastest growing. 
Although sales volumes to overseas markets were still lower compared to pre-pandemic levels, the future of NW cherries in the Asia Pacific region is bright.  The economy in Vietnam is expected to continue to thrive. Cambodia is positioning itself as a new manufacturing hub in the SE Asia region and creating more affluent families.  With the "living with the virus" policies, shipment volumes should normalize to the APAC region.   As for China, a large population of unexploited targeted consumers will benefit growth in China; however, the current geopolitics instability between the U.S. (the West) and China is not favorable for high profile consumer acquisition developments.  The U.K. market will continue to be difficult to sustain as the late season British domestic cherry crop continues to increase, production from its neighboring countries are expanding, and the lingering MRL regulations.  I believe the NWCG must take a hard look at the feasibility of all future investments in this market. 
It is crucial to recognize that cherry producing countries like Turkey and Uzbekistan are eagerly attempting to chip away NWC's dominance in the Asia Pacific region.  China's own cherry production continues to expand as their quality is improving.  In a few markets, we have already experienced stiff competition for shelf space at the beginning of each season. 
To maintain NWC's dominance as the premium cherry, it is essential for NWCG to look for new markets to diversify risks and continue investing in market and brand developments to remind consumers of the uniqueness and superiority of NW cherries.